Pastoral Staff
Pastor: Fr. Bob Duda


Deacon: Thomas Fricke

Deacon Thomas Fricke was assigned by Bishop Imesch to Christ the Servant Parish on July 1, 2003 after being associated with St. Francis of Assisi Parish in Bolingbrook for 15 years.
Deacon Tom is a past president of the Joliet Diocese Diaconal Community and a member of the Knights of Columbus, Past Grand Knight, and held various offices on the state level.
He attended St Mary's University of Minnesota in Winona, MN. He was ordained in 1988. Deacon Tom is married to Joanne.
Deacon: Rod Accardi

Deacon Rod Accardi is Director of Spiritual Care Resources at Cadence Health, which includes Central DuPage Hospital, Delnor Hospital, and Community Nursing Service Home Hospice and Palliative Care. Rod graduated with a Baccalaureate degree in Theology from Niles College of Loyola University, a Master of Education degree in Religious Studies from Loyola University, and a Doctor of Ministry degree in Pastoral Care and Counseling from Chicago Theological Seminary. He was ordained a Deacon in 1990. Rod has been married to Chestine since 1976; they reside in Glen Ellyn where they have been members of St. James the Apostle Parish since 1982.
Rod is a Board Certified Chaplain with the National Association of Catholic Chaplains. He is also the Diocesan Chaplain with the Joliet Diocese Catholic Committee on Scouting. Rod and his three adult married sons, Jason, Steve and Dean, are all Eagle Scouts. Rod created the Silent Lamp program of reflection and peer ministry. He facilitates programs both in the diocese for deacons and those in formation, as well as in the hospital for staff. Rod has authored more than 20 articles in numerous spirituality publications, composed more than 25 songs, and presents nationally on topics related to spirituality and health.
Deacon Rod served with Fr. Frank at St. John the Baptist, and served with Deacon Tom on the Deacon Leadership Board.
Religious Formation Director: Christine M Goba
Christine M Goba has been bringing the light of Christ to his children through education and service for over 30 years. She began as a catechist in her home parish of St. Petronille in Glen Ellyn. She served many years there before transferring to Sacred Heart in Lombard with her husband. While continuing her work as a catechist, she took on many additional ministries for both adults and children. Some of these included: Children's Mass Coordinator, Adult Enrichment Committee, and Eucharistic Adoration Coordinator. In 2010 Christine brought her experience and research to St. Michael of Wheaton. There she helped teach and supervise over 300 students at as the Assistant Coordinator of Junior High Religious Education. Having always had a special devotion to our Lord and his presence in the Blessed Sacrament, Christine continues to strive to follow God's will each day.
Business Manager: Bryn Wildman

Bryn was born in Aurora and attended Benedictine University and Michigan State University. She worked for the City of Naperville for 36 years in the 9-1-1 Center, police evidence, and career changed to the Building and Development as code enforcement and inspections. Lastly, following her MI State education, she worked in the City's Finance department, procurement services.
Bryn and her husband, Pete, live in Downers Grove. Pete is Methodist and active at the First United Methodist Church on Maple Av in Downers. Bryn is an active member at St. Mary of Gostyn Church and currently serves as a member of the Buildings and Grounds committee. Her daughter, Amanda, attended catholic grade schools, Downers South, and graduated from Heidelberg University, Ohio.
Upon her recent retirement from the City of Naperville, she interviewed for the business manager position at Christ the Servant and was hired by Father Duda and the interview committee. Some of her responsibilities include working closely as a team with the bookkeeper; attending meetings; keeping the church data base; interacting with members of the congregation; and aiding with supporting the facility.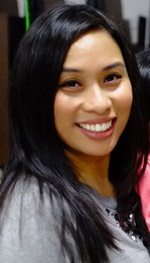 Music Director: Janet I. Alikpala
Janet I. Alikpala, our music director, most recently served as Associate Music Director for Divine Savior Parish in Downers Grove. A classically-trained pianist, Janet was drawn to church Music Ministry from a young age, both as an vocalist and as a pianist. In the fall of 1997, Janet served as music director for the University of Illinois at Chicago's John Paul II Newman Center in the Archdiocese of Chicago. Simultaneously, Janet served as music director/liturgist for neighboring St. Ignatius College Prep. She also served as Assistant Music Director for Crossroads Community Church in Naperville. Janet is also currently assisting as a part-time music minister at Benedictine University in Lisle for Sunday evening student masses and is a "go-to" pianist/accompanist within the Diocese of Joliet.
Janet studied piano with well-known Philippine teacher/vocalist/pianist, Perla Cudal and has traveled across country participating in regional and national music competitions through the American Guild of Music. Janet has mentored and coached vocalists and musicians over the years specializing in technique for traditional and contemporary music styles within the Catholic church.
Janet continues to work in the field of Public Affairs & Community Relations as a consultant for organizations and companies such as the Chicago Park District, Grant Park Conservancy, Danny Way Foundation, Dominick's/Safeway Inc., Big Brothers Big Sisters of Metropolitan Chicago, United Cerebral Palsy of Greater Chicago and Mercy Home for Boys and Girls.
Parish Pastoral Council Chair: Elena Haas
Parish Pastoral Council Co-Chair: Barb Kosiek
Administration/Finance/Stewardship Chair: Jim McIlvain
Christian Service Commission Chair: Denise Kraft
Parish Life Commission Co-Chairs: (Vacant)
Religious Formation Chair: Bill Ciolek
Worship Commission Chair: Sister Suzanne Lesniewski