Father Bob Duda, Pastor


Look at what's happening at Christ the Servant!
---
Sunday Liturgy
Christ the Servant continues to post the Saturday mass by Fr. Bob on facebook and YouTube (@christtheservant) at about 4:30 pm on Saturday. https://www.youtube.com/channel/UCl4CVB_eUB4ts51DxKyoiag The plan is to continue providing a Mass each week as long as necessary. The Mass will be posted at 4:30 pm Saturday, and remain available during the rest of the week.
---
Radio Broadcast of Mass
Even with the precautions being taken at mass, you may still feel it best to participate by listening to mass while being in your car. When mass is going on, you can listen to the audio on 88.3 FM. We found that the reception is best on the northern end of the original parking lot. (That's the side of the building the transmitter is on.) A communion minister will come outside the entrance doors for radio listeners to come receive communion. You must still observe use of face masks and social distancing. Hand sanitizer will be available for your use as well.
---
Anniversary Mass/Parish Picnic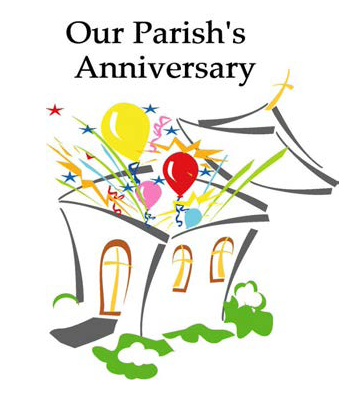 Join us as we celebrate Christ the Servant's "30 + 1" Anniversary of the first mass in our Parish Building. Come worship as we mark this occasion on Sunday, September 19 at the 10 am mass.

Our Parish picnic will be on Sunday, September 19, 2021 from 12 to 4 pm on the Parish grounds. Due to Covid, it will be BYOP ( bring your own picnic lunch) and CTS will provide safely served cake and iced water. Other activites are also planned.

See more information on page 5 in the bulletin.


---
September Happenings at Christ the Servant
September 2 - 7:00 pm - Baptism Prep Class

September 5 - 11am - Baptism

September 6 - All Day - Labor Day, Offices closed.

September 7- 4:30 - 5:45 - Religious Formation open house at OLP.

September 7- 6:00 - 7:15 - Religious Formation open house at OLP.

September 8- 6:00 - 7:15 - Religious Formation open house at OLP.

September 11/12 - Stewardship of time Sunday

September 11/12 - Cash for Food Drive

September 13 - 7:00 pm - Religious Formation Commission

September 18 - 9:00 am - Worship Commission

September 18 - TBD - Welcome Back Ministers Training

September 19 - 11am - Baptism

September 20 - 7:00 pm - Admin/Finance Commission

September 20 - 7:00 pm - Peace and Social Justice Committee

September 27 - 7:00 pm - Parish Pastoral Council

September 28 - 1:30 pm - Ladies Lunch Out TBA

September 28 - 7:00 pm - Peace & Social Justice Presentation
---
Religious Formation

Registration for the 2021-2022 Religious Education classes continues for Christ the Servant and Our Lady of Peace parishes. We ask that you take a moment to help us in our efforts to prepare for this coming year by registering your student as soon as possible! Registration Forms for Religious Formation Classes are available by clicking on the "Religious Formation Registration Form" on the left.


Sacrament Reminder: Don't forget, if your child is planning on making a sacrament the Diocese of Joliet requires that children complete a minimum of two consecutive years of religious formation before receiving sacraments.

See page 4 in the bulletin for more details and more Religious Formation news.
---
Peace and Social Justice
Fair Housing Seminar - September 28, 2021
Christ the Servant Peace and Social Justice Committee is sponsoring a free seminar on Fair Housing Past and Present on Tuesday, September 28th at 7:00 pm, at Christ the Servant Church. The guest speaker is Rachel Watson, Director of Outreach for Hope Fair Housing. Learn about the past and present status of fair housing conditions both nationally and locally. Housing discrimination is real, and it is happening right now. According to government estimates, more than four million instances of housing discrimination occur each year, though only 1% is reported (from Hope website). See page 3 in the bulletin for details.
---
MANNA Sales

Manna orders for the current sale were due by the end of the 10:00am mass on September 12, 2021. Pick up is on September 18/19 for those who ordered.
---
CTS Book Study
On Zoom, 7:00 pm, Thursdays, Starting September 16, 2021
The CTS Book Study will discuss Caste: The Origins of Our Discontents by Isabel Wilkerson.
To join this book study and get Zoom links, email Mary Porod at marifranprod@yahoo.com.
More details can be found on page 4 of the bulletin.
---
St Vincent DePaul Clothing Drive
October 23 and 24, 2021
Get your clothes and household items ready for the next clothing drive which is scheduled for Octoer 23 and 24, 2021. Volunteers & Donations needed.
---

A HUGE thank you to all who are able to continue to support the parish financially during this difficult time! If your finances allow, please continue your alms giving as most parish costs are ongoing.

Your financial support is still needed for us to be able to meet the financial commitments of the parish. We still need to pay the mortgage, utilities, and payroll. We've adjusted the thermostat to use less electricity and gas, and salaried employees (diocese-wide) have taken a 1/3 reduction in salary for at least the month of April. Thank you to the many people who are continuing making contributions to the parish, either by mailing in your gifts or contributing online. To contribute online, click on the black and yellow "Donation" button near the upper right of the home page.
God will see us through this time, together.
---
Reflection from Deacon Rod

---